ICAS Bulletin
---
Institute for Corean-American Studies, Inc.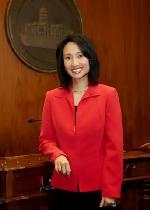 Hon Patty Kim

Councilwoman
City of Harrisburg
Commonwealth of Pennsylvania

to address

ICAS Summer Symposium: The Korean Diaspora
Challenges and Issues facing The Korean-American Community (KAC)
Identification, Critical Examination, Goal & Vision, and Strategy
Montgomery County Community College Science Center Room 214
340 DeKalb Pike, Blue Bell, PA 19422




Dear Friend:

We are pleased to share with you that Hon Patty Kim will address the ICAS Summer Symposium 2008 on August 2, 2008 at Montgomery County Community College, Blue Bell, Pennsylvania.

Patty Kim, born in San Diego, is the middle daughter of Korean immigrants who came to the United States as adults speaking very little English. Patty's father eventually graduated from USC with a graduate degree in Management. The family later moved to Washington DC where her father went to work for the Department of Defense and where her mother opened a flower shop. Patty grew up working in her mom's flower shop, attending public schools and being active in her church youth groups.

Patty was accepted to Boston College where she began three years of nursing. She eventually realized nursing wasn't for her and, determined to pursue a dream of being a television reporter. Patty switched majors in her senior year and stayed an extra semester to earn a bachelors degree in Mass Communications.

Patty immediately went to work as a production assistant, associate producer, and writer at two Washington DC stations before she was hired as an anchor/reporter in Hagerstown, Maryland. For two years Patty anchored the morning show for the NBC affiliate winning an award from the Maryland Department of Education for a report on innovative teaching programs. In 2000, she was hired at WHP-CBS 21 where sPatty reported the top news stories of the day. Later, she moved to the mornings, reporting and anchoring extensively for the weekend and morning broadcasts.

Patty married John Sider of Harrisburg in February of 2003 and in June of 2004, she gave birth to a baby girl, Brielle. Patty resigned her position at WHP-CBS 21 in the Fall of 2004. She did not just cover the triumphs and tragedies of Harrisburg for four years. Patty has been involved. After an Uptown boy was mauled by a pitbull, she covered the story and volunteered to tutor him until he went back to school. Patty has been the mistress of ceremonies for several charity events and participated with Jerry Lewis telethons. For four years she gave Harrisburg residents a voice as a reporter and now she's doing the same as a Harrisburg City Councilwoman. Patty continues to be a strong advocate for opportunities and safety for City children, neighborhood development and fiscal responsibility

Thank you.