<! - - - Main Heading - - ->
ICAS
Bulletin
---
Institute for Corean-American Studies, Inc.
<! - - - - Page Text - - ->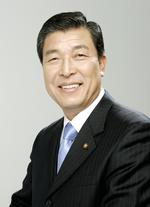 Jin Ha Hwang
ICAS Fellow

Member
National Assembly
Republic of Korea
to address



The Korean Peninsula Issues

South Korea's Foreign Policy toward China, Japan, North Korea and the United States



ICAS

Fall Symposium: Humanity, Peace and Security

October 19, 2010 Tuesday 1:30 PM - 4:30 PM
Rayburn Office Building Room B-318
United States House of Representatives
Capitol Hill
Washington DC 20515


On-Line Registration


Dear Friend:
We are pleased to share with you that Rep Jin Ha Hwang will address the
ICAS
Fall Symposium on October 19, 2010 in Washington DC.
The Honourable Jin Ha Hwang (Ret. Lieutenant General) is a second-term member of the National Assembly of the Republic of Korea, representing Paju City in Gyeonggi Province. Assemblyman Hwang is currently serving Foreign Affairs, Trade, and Unification Committee and also as Vice Chairman of Intelligence Committee. With Grand National Party, a ruling party, he is in charge of coordinating national policies with government in the fields of foreign affairs, national security, unification, and intelligence. Prior to joining the National Assembly in 2004, he had served in the Republic of Korea Army for 39 years; his major positions including Force Commander of the United Nations Peacekeeping Force in Cyprus (UNFICYP) from 2002 to 2003, Defense Attaché in Korean Embassy in the United States from 1998 to 2001, and many others. Jin Ha is currently a Ph.D candidate in political science in Kyungnam University, Seoul. He holds M.A. in Public Administration from Central Michigan University and is a graduate of the Korea Military Academy (the 25th Class in 1969). He resides in his district with his wife Bokyung, and they have two sons and a daughter.
Thank you.
Sincerely,

Sang Joo Kim
Senior Fellow & Executive Vice President


ICAS



<! - - - End Page Text - - ->