Institute for Corean-American Studies




<! - - - Main Heading - - ->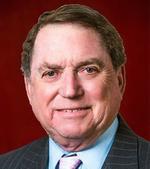 Ambassador Thomas C. Hubbard
<! - - - - Page Text - - ->
Ambassador Hubbard, ICAS Distinguished Fellow and Liberty Award Honoree, is Senior Director, McLarty Associates, and Chairman, The Korea Society
Ambassador Hubbard served from 2001 to 2004 as U.S. ambassador to the Republic of Korea, completing a 39-year career in the Foreign Service in which he focused primarily on economic, political and military relations with key nations of East Asia. Immediately prior to his appointment to Korea he was principal deputy assistant secretary of state for East Asian and Pacific affairs, a position he also held from 1993 to 1996. Ambassador Hubbard previously served concurrently as U.S. ambassador to the Philippines and to the Republic of Palau from August 1996 to August 2000.
After entering the Foreign Service in 1965, Ambassador Hubbard was assigned as a political-economic officer in the U.S. Embassy in Santo Domingo, Dominican Republic. He subsequently embarked upon intensive Japanese language study, which prepared him for two assignments to Japan totaling seven years and several assignments dealing with Japanese affairs in Washington. His other overseas assignments included the U.S. Mission to the Organization for Economic Cooperation and Development in Paris, where he advised U.S. representatives to the International Energy Agency, and the U.S. embassies in Kuala Lumpur and Manila, where he was deputy chief of mission. Ambassador Hubbard also spent one year (1981-82) as legislative assistant to Congressman Jim Leach of Iowa.
Occupying senior State Department positions beginning in the mid-1980s, Ambassador Hubbard played a leading role in policies toward Japan, the Korean Peninsula and the ASEAN nations of Southeast Asia. As Philippines desk officer, country director for Japan and deputy assistant secretary for East Asian and Pacific affairs, he helped manage security ties with leading allies and addressed issues arising from trade with some of the world's most successful economies. Increasingly involved in Korean Peninsula affairs in the 1990s, Ambassador Hubbard was a principal negotiator of the 1994 Agreed Framework aimed at ending North Korea's nuclear weapons program. He became the first senior official to lead a U.S. government delegation to North Korea in 1994 when he was dispatched by President Clinton to secure the release of a U.S. Army pilot captured after his helicopter was shot down over North Korea. In addition to this successful trouble-shooting mission, Ambassador Hubbard was tapped the same year as presidential envoy to promote human rights and democracy in Burma.
Born in Kentucky in 1943, Ambassador Hubbard was raised in Tennessee and South Carolina. He received his B.A. in political science in 1965 from the University of Alabama, where he was selected for Phi Beta Kappa. He has been awarded honorary doctorates by the University of Maryland and the University of Alabama. Ambassador Hubbard's professional awards include the State Department's Superior Honor Award and the Secretary of Defense Medal for Meritorious Civilian Service.
<! - - - End Page Text - - ->
This page last modified December 5, 2018 jdb