Institute for Corean-American Studies




<! - - - Main Heading - - ->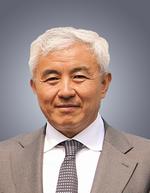 Won-Hong Joo
<! - - - - Page Text - - -> Won-Hong Joo,
ICAS Advisor
to the Board of the
ICAS
Liberty Tennis Classic, is President of the
Korea Tennis Association
. He is the second President of the KTA to have played tennis at the competitive level. Won-Hong concurrently assumes the role of President of the Korea Professional Tennis Association, Head of the Citizensí Coalition for Sports, Executive Vice-president of the Seoul Sports Council, and President of the Korea Tennis Association for the Disabled. He is also publisher of one and only tennis magazine in Korea, Tennis Korea, which has been in print since 1992. Won-Hong played competitive tennis from 1979 to 1984 as a member of the team sponsored by Daewoo Heavy Industries and began his coaching career for the team sponsored by Jeil Life Insurances in 1985. For sixteen years from 1992, he was the head coach of the team sponsored by Samsung. Won-Hong has coached some of the best players in the history of Korean Tennis, including Hyung-Taik Lee, Sung-Hee Park and Yoon-Jeong Cho. Alongside his coaching career, he has also devoted his life to improving the life environment for both the professional and amateur tennis players in Korea.
Won-Hong is a graduate of Sungkyunkwan University Law School '79 in Seoul, Korea.
<! - - - End Page Text - - ->
This page last updated September 29, 2014 jdb