Institute for Corean-American Studies




<! - - - Main Heading - - ->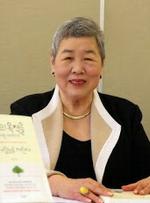 Hesung Chun Koh
<! - - - - Page Text - - -> Dr. Hesung Chun Koh is Co-Founder, Chair and President Emerita of East Rock Institute (ERI), the nationís first institution dedicated to Korean and Korean Diaspora culture. She is also Director Emerita of Research at the Human Relations Area Files (HRAF) at Yale University. As a researcher, teacher, writer, social activist and artist, Hesung dedicated the past sixty years to ERI and mentored countless students and parents from both Korean and non-Korean universities even after her retirement from Yale .
Before coming to the United States at the age of 19, Hesung majored in Korean and English Literature at Ewha Womenís University. In the States, she double majored in Economics and Sociology at Dickinson College (B.A.). Hesung continued her study of Sociology, Anthropology and also received interdisciplinary training in planning of change at Boston University, and worked as a fellow and faculty member at the Universityís Sociology Department and Human Relations Center (M.A., Ph.D.). She conducted her post-doctoral work in Chinese Studies as a National Defense Education Act (NDEA) Fellow at Harvard University and Georgetown University.
Dr. Koh has taught and conducted research at Boston University, Albertus Magnus College, Yale University, Yale Law School, the National Museum of Ethnology in Osaka (NME) and the International Research Center for Japanese Studies in Kyoto, Japan.. Co-teaching East Asian Law and Society at the Yale Law School from 1963 to 1966, Hesung became the first Asian woman to teach there. She served concurrently on the faculty of the Yale Department of Sociology from 1961 to 1985, teaching various courses on Korean culture.
As the first Chair of the Committee on Korean Studies at the Association for Asian Studies, Chair of the Wilson Center Task Force on Korean Studies and advisor of the Korean Studies at the NME, she initiated and led multiple major efforts towards the expansion of Korean Studies.
Dr. Koh has been a pioneer in Korean Culture education both in and beyond the university setting. She founded a teacherís conference on Korean culture at Yale in 1985 with National Endowment for Humanities grant. Now in its tenth year, this conference continues to introduce educators to Korean Studies curriculum development at East Rock Institute. To encourage fluency in Korean culture, Hesung also developed an award-winning educational
website
on Korean cultural values.
In the 1970s, Hesung developed seminars on gender roles before womenís studies were included in University curricula at Albertus and Yale. She was among others the member of Delegates at Large at the U.S. National Conference on Women in 1977, and was a member of the White House Committee Celebrating the UNís International Womenís Decade.
Dr. Koh has dedicated much of her life to inspiring cross-cultural dialogue. She has authored ten books and nearly a hundred articles, including her bestseller books on "Authentic Leadership" and "Authentic Womenís Leadership" which were translated and published in Tokyo, Taipei and Peking. In addition, Hesung developed the cultural information system at HRAF, Yale and ERI with grants from the National Science Foundation (NSF) and Overseas Koreans Foundation (OKF). Through ERI, she pioneered in studies of Korean diaspora in 1970s and compiled and edited the first comprehensive book on the Korean Diaspora and launched the first and only scholarly journal on Korean and Korean American Studies (1984-2009). Hesung organized and sponsored many international conferences over the years on the Korean Diaspora, Korean culture through arts (films, music, danc), and authentic traditional clothing, and on the theme of "Diaspora, Design and Globalization: Toward a Virtual Diaspora Museum."
Hesung continues to serve as a mentor to students and young Korean American professionals at Yale and other colleges through various internships and leadership training programs. Dr. Koh has organized and co-sponsored nearly thirty annual conferences since 1970 on intergenerational issues affecting both Koreans and Korean American. Through these channels, she has made significant contributions towards shaping the Korean Diaspora identity at both the individual and institutional level.
Most recently, Hesung published the book "Meaningful Aging" and developed the Cross Cultural Aging Initiative at ERI. She received support for the Cross Cultural Aging Initiatives from Changwon and Seoul National Universities, leaders of LeadingAge, the International Association for Home and Services (IAHSA) and the Whitney Center, a retirement community where she and many other retired Yale faculty members currently reside. The aim of the project is to include and enhance cultural competency to the current "wellness" model of senior living.
Hesung continues to teach and live by her motherís maxim, "Virtue Over Skill," and the ERI motto, "To search, to learn, and to serve." She has dedicated a lifetime to bridging cultural understanding between the East and West, across genders and generations. Hesung has done so by combing theory and practice and through her Asian brush painting exhibits.
She has volunteered at professional, educational and community organizations, churches, ecumenical groups for a number of decades. Her past roles include serving as a member of the Advisory Board of Dickinson College, as an member of the Board of Ordained Ministry of the United Methodist Church, New York Conference as well as US Delegate to UNESCO World Information System as representative from the Social Science Research Council and National Academy of Science/ National Research Council.
Her passion for knowledge, public service and activism has been recognized through numerous awards in Korea and the United States, including the Order of Civil Merit (the Republic of Koreaís highest award to a civilian) and the Connecticut Governorís Award.
Dr. Koh is the proud mother of six professional children, eleven grandchildren and four great grandchildren. Hesung has been the mother of the US presidential nominee at three US Senate confirmations.
<! - - - End Page Text - - ->
This page last updated June 24, 2014 jdb