<! ---- insert text> [Editor's note: We gratefully acknowledge the special contribution with written permission to ICAS of William B. Brown's paper. It is his generous gift to ICAS: sjk]


<! Insert text - - - - - ->







South Korea: Trying to Avoid a "W" Shaped Cycle

William B. Brown 1



South Korea's economy is slowing sharply after a strong "V" shaped recovery from its 1997 crisis. In 1999, and through the first three quarters of 2000, GDP grew at close to a 10 percent annual rate.


Fourth quarter GDP data are not yet available but analysts put growth from the year-earlier quarter at only 6.0 percent. This prediction implies negative third-to-fourth quarter growth, a possibility supported by weak industrial production and export data.
Consensus GDP forecasts for 2001 have been slashed from 6 percent last fall to 4.4 percent, including barely any growth in the first half and a slight recovery in the second.
Weakness is caused by ballooning bad-debt problems in the country's banks, bankruptcy of major portions of the huge Daewoo and Hyundai industrial empires, sharply declining semiconductor prices, high imported oil costs, and slow growth in the United States and Japan, Korea's major export markets.



Industrial production was up slightly in January but is off 9 percent from its August 2000 peak. Weakness in the important semiconductor industry is partially responsible-prices for the standard 64 M Dram semiconductor chip have fallen 75 percent since early 2000.
Korea's growth in past decades has been driven by investment and by exports, and both are now showing signs of trouble.
Growth in spending for new equipment lost steam over the 12 months of 2000 and by November and December investment spending was below year-earlier levels.
Exports in December also were essentially unchanged from the year-earlier level, after rapid growth in the first three quarters.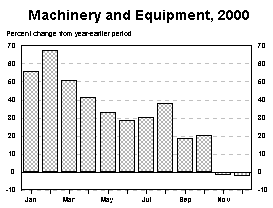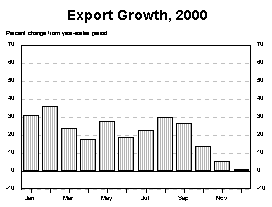 Comment:

With nearly half of its GDP accounted for by exports, Korea's economy is vulnerable to a global slowdown. Information technology leads the economy but manufactured goods of many kinds--ships, autos, steel, and consumer electronics--are each quite important. Korean businesses, moreover, tend to be highly leveraged, and a slowdown in production often leads to a sharp rise in bad debt and tension in the banking system. These tensions, in turn, cause consumers to cut back on spending.

The economy has important strengths, however, that will likely let it work itself through this downturn.


Record foreign exchange reserves give the Bank of Korea room to cut interest rates with less worry about an outflow of capital than it did during the 1997 debacle. The Bank of Korea lowered rates earlier this month and will likely continue to ease.
In the 1997 crisis, the won was linked to a rising U.S. dollar and the Federal Reserve had been raising interest rates. Currently the won is floating and dollar interest rates are falling, a big help to Korean monetary policy.
The won seems to be cheaply priced, giving exporters a head start against their Japanese and U.S. competitors. An upturn in the semiconductor cycle, and a downturn in oil prices, would give a big boost to Korean profits and to net exports.
Korea, like much of Asia, is likely to continue to see these large swings in economic activity as long as investment is such a strong component of growth. Intensified consumer demand, at some point, will need to step in and provide the main force for stable economic growth. But consumers are unlikely to spend freely as long as there is so much uncertainty in the system. The government acknowledged as much earlier this month with a demand that its restructuring and reform program be speeded up in order to create a truly competitive economy.

<! FOOTNOTE> 1. Senior International Economist, Office of the Chief Economist, U S Department of Commerce, and ICAS Fellow.

<! - - - - end insert text >