Institute for Corean-American Studies




<! - - - Main Heading - - ->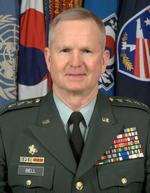 Burwell B. Bell
<! - - - - Page Text - - -> General Burwell B. Bell,
ICAS Liberty Foundation Distinguished Fellow
and
ICAS Liberty Award
Recipient, is a retired United States Army four star general. He is a former Commander of United Nations Command, Combined Forces Command, and U.S. Forces, Korea in the Republic of Korea. Additionally, he commanded the United States Army, Europe; and NATO's Land Component Headquarters, Heidelberg. As an Armor / Cavalry Officer, General Bell was deployed or stationed overseas for fifteen of his thirty nine years of active military service in both peace and war. He is a veteran of the Iraq Desert Storm Campaign where he served as General Norman Schwarzkopf's personal Executive Officer.
He is a lifetime member of the Council on Foreign Relations, holds a master's degree from the University of Southern California, and has been awarded three honorary doctorate degrees. General Bell was named the University of Tennessee at Chattanooga's Distinguished Alumnus in 2003, and since retirement in 2008 served as the Chairman of the Chancellor's Roundtable and is also a member of the UC Foundation Board of Trustees.
General Bell remains active in national security affairs across a range of governmental organizations and think tanks. One of his latest contributions was as a member of the Defense Advisory Committee for the Peterson Foundation and Stimson Center's publication entitled "A New Defense Strategy for a New Era: Military Superiority, Agility , and Efficiency." He travels frequently to South Korea engaging with Government and Military leaders regarding the continuing north Korean threat. General Bell is married to the former Katie L. Fields of Chattanooga and his family resides in Ooltewah, Tennessee, a suburb of Chattanooga.
<! - - - End Page Text - - ->
This page last updated November 12, 2014 jdb