Institute for Corean-American Studies




<! - - - Main Heading - - ->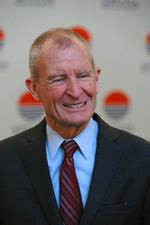 Dennis C. Blair
<! - - - - Page Text - - -> Admiral Dennis Blair,
ICAS
Liberty Foundation Distinguished Fellow and
ICAS
Annual Liberty Award Reciprient 2016, Chairman of the Board and CEO of Sasakawa USA, is a renowned expert on Asia Pacific policy and issues. He also serves as a member of the Energy Security Leadership Council and the Aspen Homeland Security Council; and Dennis is on the boards of Freedom House, the National Bureau of Asian Research and the National Committee on US-China Relations.
As Director of National Intelligence, from January 2009 to May 2010, he led sixteen national intelligence agencies, managed a budget of $50 billion and provided integrated intelligence support to the President, Congress and operations in the field.
Dennis was president and chief executive officer of the Institute for Defense Analyses (IDA), a federally funded research and development center, that supports the Department of Defense, the Department of Homeland Security and the Intelligence Community, from 2003 to 2006.
During his 34-year Navy career, he served on guided missile destroyers in both the Atlantic and Pacific fleets and commanded the Kitty Hawk Battle Group. Ashore, Dennis served as Director of the Joint Staff and held budget and policy positions on the National Security Council and several major Navy staffs. Prior to retiring from the Navy in 2002, he served as Commander in Chief of the U.S. Pacific Command, the largest of the combatant commands.
Dennis has served as a director of both public and private corporations, including Tyco International, EDO Corporation (now part of L-3, Inc.), and Iridium LLC (now a public corporation). He resigned from all board positions when he re-entered government in 2009. Dennis currently is a consultant for Lockheed Martin Space Systems and the European Aeronautic Defense and Space Company, North America.
He co-chaired the Commission on the Theft of American Intellectual Property and published a series of recommendations in May 2013. Dennis is the author of
Military Engagement: Influencing Armed Forces Worldwide to Support Democratic Transitions
, published in June 2013.
A graduate of the U.S. Naval Academy, he earned a masterís degree in history and languages from Oxford University as a Rhodes scholar, and was a White House fellow at the Department of Housing and Urban Development. Dennis has been awarded four Defense Distinguished Service medals, three National Intelligence Distinguished Service medals, and has received decorations from the governments of Japan, Thailand, Korea, Australia, the Philippines and Taiwan.
<! - - - End Page Text - - ->
This page last modified January 1, 2017 jdb