Institute for Corean-American Studies




<! - - - Main Heading - - ->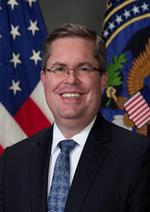 Scott W. Bray


National Intelligence Manager for East Asia
Office of the Director of National Intelligence


<! - - - - Page Text - - -> Scott W Bray is the senior intelligence official on East Asia in the US Intelligence Community. He has been the National Intelligence Manager for East Asia since November 2012. In this role, Scott oversees and integrates all aspects of the Intelligence Communityís collection, analytic, counterintelligence, and resource efforts regarding East Asia. He is the personal representative of the Director of National Intelligence (DNI) on East Asian matters and serves as the DNIís focal point for the integration of all activities in the region.
From September 2010 until November 2012, Scott was the Deputy National Intelligence Manager and Principal Deputy National Intelligence Officer for Military Issues. He provided expert assessments to the White House and other senior officials on worldwide military issues. Scott also oversaw the production and coordination of National Intelligence Estimates and other Intelligence Community products regarding worldwide military issues.
From March 2008 to September 2010, he was the United States Navyís Senior Intelligence Officer for China. Scott advised senior Defense Department and Navy officials, including the Secretary of the Navy, Chief of Naval Operations, and Commanders of the Pacific Command, Pacific Fleet, and Seventh and Third Fleets. His responsibilities also included overseeing China-related efforts at the Office of Naval Intelligence (ONI) as well as major Intelligence Community initiatives pertaining to Chinaís navy.
Scott was a Senior Analyst and Special Assistant to the United States Defense Attaché at the US Embassy in Beijing, China from July 2007 to March 2008. In this position, he advised the Defense Attaché on key intelligence issues and priority focus areas for the Defense Attaché Office to meet national level requirements. While in Beijing, Scott was selected to Senior Executive Service in August 2007.
Before his rotation to the US Embassy in Beijing, he was the China Subject Matter Expert and Acting Deputy Senior Intelligence Officer for China at ONI. From 2004 to 2007, Scott was ONIís primary authority on Chinaís military strategy and doctrine.
In 2002, Scott provided analytical continuity and stimulated analysis on China-related issues across all disciplines within ONIís Naval Warfare Department. He joined ONI in 2000 as a submarine operations and readiness analyst in the Submarine Warfare Operations Research Division (SWORD). Prior to his career at ONI, Scott worked on arms controls issues as a contractor for the US Army.
A native of Augusta, Georgia, Scott earned a BS of International Affairs from the Georgia Institute of Technology in 1996 and a Master of International Affairs at Columbia University in 1998. Georgia Tech named Scott a Distinguished Alumnus of the Sam Nunn School of International Affairs in 2015.
He is married to Leah Bray and has two children, Elizabeth and Seth.
<! - - - End Page Text - - ->
This page last modified July 11, 2017 jdb