Institute for Corean-American Studies




<! - - - Main Heading - - ->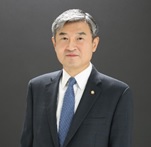 Taeyong Cho
<! - - - - Page Text - - ->
Representative Tae Yong Cho is a current member of the National Assembly of ROK and a former diplomat with over three decades of experience. From 1983, he started his career at the Ministry of Foreign Affairs of ROK, most notably serving as Ambassador of the ROK to Ireland and Australia, in 2007 and 2011 respectively.
Coming 2014, representative Cho served as the 1st Vice Minister, after which he served as the 1st Deputy Director at the Office of National Security under the Office of the President.
In 2019, he was recruited by Liberty Korea Party, predecessor of PPP, after which he ran as a member of Future Korea Party.
Since his election victory in May 2020, he has been an active member of People Power Party, holding various positions in many committees, including Foreign Affairs and Unification Committee, Intelligence Committee, and 4th Policy Steering Committee.
He received a B.A. in Political Science at Seoul National University, after which he was further trained under Foreign Service Programme at University of Oxford, now well known as Diplomatic Studies Program.
Thank you.
<! - - - End Page Text - - ->
This page last modified March 4, 2021 rmj