Institute for Corean-American Studies




<! - - - Main Heading - - ->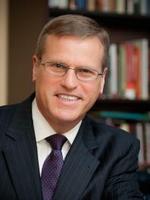 Patrick M. Cronin
<! - - - - Page Text - - -> Dr. Patrick M. Cronin,
ICAS
Fellow, is a Senior Advisor and Senior Director of the Asia-Pacific Security Program at the Center for a New American Security (CNAS). Previously, Patrick was the Director of the Institute for National Strategic studies (INSS) at National Defense University and has a distinguished career inside government and academic research centers, spanning defense affairs, foreign policy, and development assistance. He served more than two years at the London-based International Institute for Strategic Studies (IISS), where Patrick was the Director of Studies, Editor of the Adelphi Papers, and Executive Director of the Armed Conflict Database. Prior to joining IISS, Patrick was Director of Research and Senior Vice President at the Center for Strategic and International Studies (CSIS) in Washington, D.C. In 2001, he was confirmed by the Senate to the third-ranking position at the U.S. Agency for International Development. From 1998 until 2001, Patrick served as Director of Research at the U.S. Institute of Peace. Patrick spent seven years at the National Defense University, arriving at INSS in 1990 as a Senior Research Professor covering Asian and long-range security issues. He was the founding Executive Editor of Joint Force Quarterly, and subsequently became both Deputy Director and Director of Research at the Institute. Patrick has also been a senior analyst at the Center for Naval Analyses, a U.S. Naval Reserve Intelligence officer, and an analyst with the Congressional Research Service and SRI International. He has taught at several universities, including Georgetown University's Security Studies Program, The Johns Hopkins University's Paul H. Nitze School of Advanced International Studies (SAIS), and the University of Virginia's Woodrow Wilson Department of Government.
Patrick read International Relations at St Antony's College, University of Oxford, where he received both his M.Phil. and D.Phil. degrees. Among his numerous reports at CNAS, Patrick is the author of
Vital Venture: The Economic Engagement of North Korea and the Kaesong Industrial Complex
(2012) and
Restraint: Recalibrating American Strategy
(2010), as well as the editor and contributing author of
Cooperation from Strength: The United States, China and the South China Sea
(2012). Among his earlier major publications are:
Global Strategic Assessment, 2009: America's Security Role in a Changing World
(NDU Press 2009);
The Impenetrable Fog of War: Reflections on Modern Warfare and Strategic Surprise
(Praeger 2008);
The Evolution of Strategic Thought: Adelphi Paper Classics
(Routledge 2008); and
Double Trouble: Iran and North Korea as Challenges to International Security
(Praeger 2007).
<! - - - End Page Text - - ->
This page last updated March 28,2020 jdb