Institute for Corean-American Studies




<! - - - Main Heading - - ->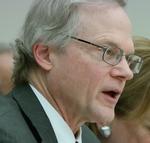 Mark Fitzpatrick
<! - - - - Page Text - - -> Mark Fitzpatrick,
ICAS
Fellow, is Executive Director of the Washington-based Americas office of the International Institute for Strategic Studies (IISS), as of December 2015. He also continues to head the IISS Non-Proliferation and Nuclear Policy Programme, a position he held at the London headquarters since late 2005. Mark's IISS program focuses on proliferation challenges and on nuclear security and nuclear disarmament issues. He is the author of
Asiaís Latent Nuclear Powers: Japan, South Korea and Taiwan
(February 2016),
Overcoming Pakistanís Nuclear Dangers
(2014) and
The Iranian Nuclear Crisis: Avoiding worst-case outcomes
(2008). Mark is also the editor of six IISS Strategic Dossiers on countries and regions of proliferation concern, most recently on North Korea (July 2011) and Iran (February 2011). He has lectured throughout the world and is a frequent media commentator on proliferation topics. Mark is a founding member of the EU Non-Proliferation Consortium. He is also a member of the World Economic Forum Global Agenda Council on Nuclear Security.
Mark joined IISS in October 2005 after a 26-year career in the US Department of State, including as Deputy Assistant Secretary for Non-Proliferation (acting). His diplomatic postings also included Vienna, in charge of liaison with the International Atomic Energy Agency, as well as postings in Seoul, Tokyo (twice) and Wellington.
Mark earned a Masterís degree in Public Policy from the Kennedy School of Government at Harvard University, and he attended a one-year post-graduate study program (1990-1991) at the Japanese National Institute of Defence, where his dissertation on Korean unification was published in journals in Japan and South Korea. Mark and his wife Kyoko have two adult sons.
<! - - - End Page Text - - ->
This page last modified March 3, 2017 jdb