Institute for Corean-American Studies




<! - - - Main Heading - - ->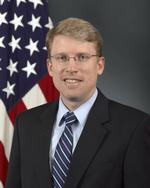 David F. Helvey
Deputy Assistant Secretary of Defense for East Asia
<! - - - - Page Text - - -> David F Helvey was appointed Deputy Assistant Secretry of Defense for East Asia in the Office of the Assistant Secretary of Defense for Asian and Pacific Secuirty Affairs on December 31 2012. Prior assignments in the Office of the Secretary of Defense include, Principal Director for East Asia, Country Director for China, and Director for China, Taiwan, and Mongolia, and Senior Advisor for China Policy and Integration.
From August 1998 to October 2004, David was assigned to the Defense Intelligence Agency (DIA) as a China military-political Affairs analyst in the China Strategic Issues Division, Office of China and East Asia. From June 2003 to October 2004,he served as DIA's Senior Intelligence Analyst for China military-political affairs. While assigned to DIA, David performed tours in OSD/ISA and the Joint Staff J2 (Intelligence).
From September 1996 to August 1998, David was employed as a Policy Analyst with ANSER, Inc's Congressional Analysis Team. His duties included research and analytic support to the Office of the Assistant Secretary of the Air Force (Acquisition) Power Projection Division. From February 1998 to August 1998,he was assigned to the Assistant Secretary of Air Force (Acquisition) Staff Group.
David graduated from The American University with an MA in US Foreign Policy in 1996 and from West Virginia University with a BA in Political Science in 1994.
<! - - - End Page Text - - ->
This page last updated March 9, 2014 jdb