Institute for Corean-American Studies




<! - - - Main Heading - - ->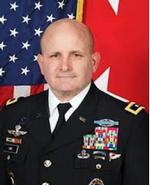 William Hix
<! - - - - Page Text - - -> Major General William Hix currently serves as the Director of Strategy, Plans and Policy, Deputy Chief of Staff G-3/5/7, Headquarters for the Department of the Army. In this capacity, he is responsible for developing, articulating, and advancing strategy, plans, concepts, and policies that shape the geo-strategic security environment, informing Army senior leader decision making, and providing ready and sustainable forces and capabilities, at acceptable risk, to meet anticipated national security requirements.
Earlier wartime service includes assignments as the Director, Future Operations, International Security Assistance Force Joint Command in Afghanistan, Commander, Afghan Regional Security Integration Command South, Chief of Staff, Combined Security Transition Command, Afghanistan and Chief of Strategy, Multi-National Force, Iraq.
Previous strategy and planning assignments include the Deputy Director/Chief of Staff and Director, Concept Development and Learning, Army Capabilities Integration Center, Director for Operational Plans and Joint Force Development, Joint Staff J-7, Strategy Division Chief, Joint Staff J-5, principal special assistant to Commander, U.S. Joint Forces Command, Supreme Allied Commander, Atlantic, and Supreme Allied Commander, Transformation, and as a staff officer at Combined Forces Command, Korea.
Previous operational assignments include command and staff positions in the 82d Airborne Division, 1st Battalion, 1st Special Forces Group (Airborne), and the 101st Airborne Division (Air Assault), with operational tours spanning peacekeeping missions in the Sinai and the Western Sahara as well as command in Desert Shield and Desert Storm.
Born in Washington, D.C., Bill was commissioned as an infantry officer following graduation from the U.S. Military Academy in 1981. He holds a Masters of Military Art and Science, was a National Security Affairs Fellow at the Hoover Institution on War, Revolution, and Peace at Stanford University and is a member of the International Institute for Strategic Studies.
Bill has earned the Special Forces and Ranger Tabs, the Combat Infantryman Badge (with Star) and the Expert Infantryman Badge as well as the Master Parachutist, Pathfinder and Air Assault Badges. His awards and decorations include the Defense Superior Service Medal (with 2 Oak Leaf Clusters), Legion of Merit (with Oak Leaf Cluster), Bronze Star Medal (with 2 Oak Leaf Clusters), Defense Meritorious Service Medal (with Oak Leaf Cluster), Meritorious Service Medal (with 3 Oak Leaf Clusters), Joint Service Commendation Medal, the Southwest Asia Service Medal (with 2 Bronze Service Stars), Afghanistan Campaign Medal, Iraq Campaign Medal, NATO non-Article 5 Medal, and United Nations Medal (MINURSO).
<! - - - End Page Text - - ->
This page last modified November 4, 2017 jdb