Institute for Corean-American Studies




<! - - - Main Heading - - ->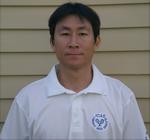 Chi Wan Kim
---
<! - - - - Page Text - - -> Chi Wan Kim, Commissioner for
ICAS
Liberty Tennis Classic, a native of Korea, has devoted much of his life to tennis and its associated activities.
Chi Wan was a member of the Korean National Tennis Team since 1992 until 1996. He participated in the Davis Cup Tennis Championship as a team member in 1992 and as a team captain from 1993 until 1995. Chi Wan was also an Olympian for 1992 Summer Olympic in Barcelona, Spain. He proudly won Silver Medal in Men's Double Tennis game at the 1994 Asian Game in Hiroshima, Japan.
Chi Wan is a second Olympian in the ICAS Community. The first is
Britton Chance
who won a gold medal for the US in the 1952 Helsinki Summer Olympic Yacht Race.
Chi Wan's highlights in a Single Tennis match was against Kevin Curren, World No. 5 in Single, at the 1992 KAL Cup Korea Open Tennis Championship held in the Republic of Korea. His most prominent Double Tennis match was with his long-time double partner Eui Jong Jang against World No. 4 and 1993 French Open Champion Andrei Olhovskiy and David Adams at the 1994 KAL Cup Korea Open Tennis Championship in Republic of Korea.
Chi Wan's outstanding contribution to the well-being of the national physique and psychic was honoured with the Presidential Decoration of Honor by President Yeong Sam Kim in April 1994.
His passion for tennis continues in varied ways that include running volunteer community tennis clinics for less-privileged youngsters.
Chi Wan is married to Nam Ok Kim and have two children.
<! - - - End Page Text - - ->
This page last updated April 8, 2011 jdb