Institute for Corean-American Studies




<! - - - Main Heading - - ->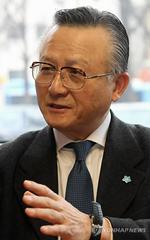 Suk-woo Kim
Former Vice Minister, National Unification, Korea


<! - - - - Page Text - - ->
Kim Suk-woo served for the Korean government for more than thirty years until February 1998. His last responsibility was vice-minister of national unification (1996-1998). Prior to that, he served as senior protocol secretary in the Kim Young-sam administration. Kim was also a China-Japan specialist who devoted more than a decade to Northeast Asian affairs in the Ministry of Foreign Affairs. He was one of the main architects of the North Politics of the Korean diplomacy. As Director-General of the Asian Affairs Bureau (1991-1993), he coordinated the normalization process with the mainland China as well as with Vietnam. As political counselor at the Korean embassy in Tokyo (1986-1989), he served as a main dialogue channel with the USSR before normalization.
Later on Kim also served as Chief of Staff to the Speaker of the National Assembly, Park Kwan-young (2002-2004). He was a member of the Presidential Committee for Unification Preparation (2014-2017).
Kim is a graduate of Seoul National University where he earned an M.A. and a B.A. in international law. He also studied at the Woodrow Wilson School of the Princeton University and Keio University. Kim did research works at CSIS in Washington, D.C. for three years as a senior visiting fellow until February 2002. He is president of the National Development Institute since 2004, which focuses inter-Korean relations and unification of the Korean peninsula.
<! - - - End Page Text - - ->