Institute for Corean-American Studies




<! - - - Main Heading - - ->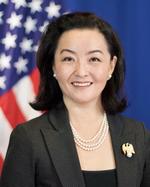 Yuri Kim
Ambassador Extraordinary and Plenipotentiary
of the United States of America to the Republic of Albania
United States Department of State


<! - - - - Page Text - - ->
Hailing from Guam, Yuri is the first American woman Ambassador of Korean ancestry.
Yuri is a career member of the Senior Foreign Service, class of Counselor, of the US Department of State and Morse is Professor of Law of Northern Illinois University College of Law.
Yuri was among the distinguished guests of the ICAS Annual Liberty Award Celebration Dinner 2019 and she is the first Korean-American woman to be a US Ambassador. Yuri held multiple leading high-profile offices in the State Department and she has an extensive experience dealing with national security issues across Europe, Asia, and the Middle East. Yuri was the Director of the State Department's Center for the Study of Diplomacy and Chief of Staff to the Deputy Secretary of State. She earned her BA from the University of Pennsylvania and an MPhil from Cambridge University.
<! - - - End Page Text - - ->
This page last modified January 17, 2020 jdb