Institute for Corean-American Studies




<! - - - Main Heading - - ->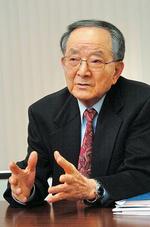 Chong Moon Lee
---
<! - - - - Page Text - - -> Chong Moon Lee,
ICAS
Liberty Foundation Distinguished Fellow,
ICAS
Liberty Award Honoree, founded Diamond Multimedia Systems, served as CEO & Chairman of the company for 17 years, and took it to a successful IPO in 1995. He is now chairman of AmBex Venture Group, a venture capital and investment fund in Silicon Valley, and the chairman of the board of Nara Bank, Los Angeles, a leading community bank serving California and New York states.
Chairman Lee also is a member of Advisory Board of Stanford Technology Venture Program (STVP) of Engineering School, Stanford University. He served as a Consulting Professor at Asia Pacific Research Center of Stanford University and currently serves as a Trustee and a Chaired Professor Emeritus of Korea Advanced Institute of Science and Technology (KAIST). Chairman Lee encouraged and helped KAIST establish "Center for Science-based Entrepreneurship" to educate the engineering students to understand the value creation through combining technology and entrepreneurial minds.
Chairman Lee serves as a Commissioner & Trustee of Asian Art Museum of San Francisco – Chong Moon Lee Center for Asian Art & Culture, which boasts of the largest Asian arts collections outside of Asia. He also serves as a Trustee Emeritus of Asia Foundation, San Francisco, and as a Trustee of Asia Society, New York, and Center for Strategic & International Studies (CSIS), Washington, DC.
He has received numerous accolades for outstanding leadership in the business and civic areas, including Korea's highest medal of honor for a civilian, the Order of Civil Merits (
Mugunghwa
Medal). In 2005 Asia Society honored him with the Outstanding Asian American Entrepreneur Award. Chairman Lee holds MS degree from Vanderbilt University, Nashville, Tennessee, and five honorary doctorate degrees from various leading universities in the United States and Korea.
<! - - - End Page Text - - ->
This page last updated December 16, 2010 jdb