Institute for Corean-American Studies




<! - - - Main Heading - - ->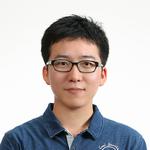 Jin Pyuo Lee
<! - - - - Page Text - - -> Jin Pyuo Lee,
ICAS
Research Assistant, was born in South Korea and graduated
cum laude
from an American high school in Michigan. He is currently a sophomore at Wharton School of the University of Pennsylvania double-majoring in Finance and Environmental Studies.
He served in the Republic of Korean (ROK) Army from July 2009 to May 2011 at the ROK-US Combined Forces Command, where J P translated documents and various seminars for the Korean and US military officers at the Civil- Military Operations Division. He also led the volunteers group in the unit and planned two combined English Camps in 2010. For his dedicated service, J P was awarded Army Commendation Medal from the US Army.
Since he first came to the States, he has been actively involved in journalism. J P wrote for
The Daily Pennsylvanian
, the student newspaper at the University of Pennsylvania, as a staff writer for four semesters at Penn.
<! - - - End Page Text - - ->
This page last updated April 17, 2015 jdb