Institute for Corean-American Studies




<! - - - Main Heading - - ->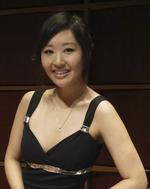 Ann Lim
<! - - - - Page Text - - -> Hyeu Sun (Ann) Lim is a senior at University of Maryland studying Piano Performance with Professor Bradford Gowen. Ann received an A.A. in Music at Howard Community College (HCC) in 2014.
At the age of 12, Ann became a Christian. This sparked her interest in Music. She began to teach herself to sing and to play the piano by ear. When she realized that this was her passion, she began to dream about her future as a Worship Director. However, Ann realized the limit of playing the music by ear, she decided to study Music.
In Spring of 2011, she began her classical piano training under Dr. Wei-Der Huang. Apart from Classical Piano, she studied with Ms. Karla Chisholm for Jazz Voice, Mr. Blackman for Jazz Piano and Classical Voice with Dr. Lorriana Markovic.
Ann received numerous scholarships including University of Maryland Presidentís Transfer Scholarship 2014-2016, Stringer Foundation Performing Arts Scholarship 2015-2016, OTEFE 2015, and the KASF 2014-2015. At HCC, Ann received 2013-2014 Arts and Humanities Outstanding Student Award. In addition she had the honor of singing the National Anthem the HCC Grand Prix and Student Commencement in 2012- 2014.
Annís passion is to perform Christian music and she believes that after completing her Classical training at the University of Maryland, she will be more equipped to follow her passion in directing Christian Music. Ann hopes to pursue a Masterís Degree in Divinity and Church Music after she finishes her degree at the University of Maryland.
<! - - - End Page Text - - ->
This page last modified December 11, 2015 jdb