Institute for Corean-American Studies




<! - - - Main Heading - - ->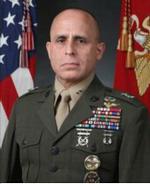 Major General Joaquin F. Malavet, USMC
Director
Strategic Planning and
Policy, U.S. Pacific
Command, J5
<! - - - - Page Text - - -> Major General Joaquin F. Malavet is the Director for Strategic Planning and Policy (J5), U.S. Pacific Command. He is a native of Denville, NJ. He attended the Pennsylvania State University on an NROTC scholarship and graduated as a commissioned 2nd Lieutenant in August 1985 with a Bachelor of Science degree in Industrial Engineering (Systems Management).
As a CH-53D/E helicopter pilot and WTI, his operational flying tours include multiple deployments across PACOM, EUCOM, and CENTCOM AORs with HMH-463, HMM-265 and HMM-262 out of MCAS Kaneohe Bay, and HMH-464 out of MCAS New River. He served as the Air Officer for 3d Battalion, 3d Marines, and as the HMM-263 (REIN), 24th MEU(SOC) Aviation Combat Element (ACE) Future Operations and Tactics Division Head he was responsible for the 24th MEU (SOC) Mediterranean, Adriatic Sea, and Bosnia theatre contingency Air and TRAP/CSAR Plans. As a MAWTS-1 Instructor, MajGen Malavet served as the CH-53D/E Division Head, and the Assault Support Department head responsible for the CH-53, CH-46, AH-1W, UH-1N, and MV-22 Weapons and Tactics Programs.
MajGen Malavet took Command of HMH-464 aboard the USS Kearsarge on May 5th, 2003 in the North Arabian Gulf. While Commanding HMH-464, the "Condors" earned the 2003 Chief of Naval Operations (CNO) Safety Award, the 2004 Department of the Navy (DON) Safety Excellence Award for Active Duty Marine Corps Squadron, and the 2004 Marine Corps Aviation Association (MCAA) Commandant's Trophy in recognition of the best overall performance and accomplishment of all assigned tasks by a Marine Corps Squadron. He relinquished Command of HMH-464 on November 17th, 2004. MajGen Malavet commanded MAG-24 from 2007-2010 and deployed his CH-53 Squadrons to the WESTPAC AOR, Iraq and Afghanistan. MajGen Malavet commanded 1st Marine Expeditionary Brigade and served as the Deputy Commanding General of I Marine Expeditionary Force from 2014-2015.
MajGen Malavet has served on staff at multiple levels of command. In 2000, he joined the United States Joint Forces Command (USJFCOM) J-5 Directorate as a Strategic Plans Analyst. In January 2005, he redeployed to Iraq with the 2d MAW (FWD) team and served as the Tactical Air Command Center (TACC) Senior Battle Captain and Current Operations Director. MajGen Malavet then served on the Joint Staff J-5, Central Asia/South Asia Division as the Afghanistan Branch Chief from 2006-2007. He also served as the Aviation Expeditionary Enablers (APX-1) Branch Head at HQMC Aviation from 2010-2011. In his first assignment as a General Officer, he led the Marine Corps' JROC processes as the Director, Joint Capabilities Assessment and Integration Directorate from July 2011- May 2012. He then served in OSD Policy as the Principal Director, and Deputy Assistant Secretary of Defense for South and Southeast Asia. As the White House designated DASD, he led bi-lateral and multi-lateral strategic engagements with allies and partners in the Asia-Pacific.
MajGen Malavet attended the College of Naval Command and Staff at the Naval War College and graduated in 2000 with Distinction earning a Master of Arts degree in National Security and Strategic Studies. In August 2005, he attended the Johns Hopkins University – The Paul H. Nitze School of Advanced International Studies (SAIS) as a CMC Fellow. He graduated in 2006 earning a Masters of International Public Policy-concentrating on Asia-Pacific security affairs.
MajGen Malavet's personal awards include the Defense Superior Service Medal, Legion of Merit, Defense Meritorious Service Medal with Oak Leaf Cluster, Meritorious Service Medal with one Gold Star, Air Medal with one Strike/Flight award, Navy and Marine Corps Commendation Medal with one Gold Star, Navy and Marine Corps Achievement Medal with two Gold Stars, Humanitarian Service Medal, NATO Medal, and various unit/campaign awards.
(as of June 2017)
<! - - - End Page Text - - ->
This page last modified October 17, 2017 jdb