Institute for Corean-American Studies




<! - - - Main Heading - - ->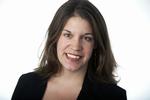 Rachel Oswald
<! - - - - Page Text - - ->
Rachel is Congressional Quarterly's foreign policy reporter, where she has worked since 2014, covering the intersection of Congress and foreign affairs. Prior to that, Rachel spent five years at National Journal's Global Security Newswire covering nuclear weapons issue. She traveled to Seoul for an in-depth report on the likelihood of South Korea pursuing its own nuclear deterrent if the North Korean crisis worsens. That report can be read here: https://info.cq.com/resources/cq-magazine04092018/.
Rachel is a two-time fellow of the Pulitzer Center and a past fellow of the International Reporting Project, the Japan Foreign Press Center, and the National Endowment for Democracy. She has reported from Japan, Austria, Russia, Kazakhstan, and the Dominican Republic.
In her free time, Rachel serves as the vice chair of the National Press Club's Press Freedom Committee.
<! - - - End Page Text - - ->
This page last modified April 13, 2018 jdb