Institute for Corean-American Studies




<! - - - Main Heading - - ->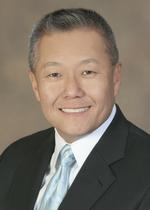 Peter M. Rhee MD MPH
<! - - - - Page Text - - -> Dr. Peter M. Rhee,
ICAS
Fellow and
ICAS
Liberty Award reciprient, is currently the Chief of Trauma, Critical Care and Emergency Surgery as well as Professor of Surgery at the University of Arizona. Peter is also Vice Chair for Clinical Affairs in the Department of Surgery at University of Arizona. Previously, he held appointments as Director of the Navy Trauma Training Center; Attending Surgeon at Los Angeles County Medical Center; Professor of Surgery at the University of Southern California; and Professor of Surgery at the Uniformed Services University of the Health Sciences (USUHS). Academically, Peter received a BS in Health Systems Engineering from the Georgia Institute of Technology (summa cum laude, 1983), a MD from USUHS (1987), a MPH in Health Services from the University of Washington (1995), and a Diploma in the Medical Care of Catastrophes from the Society of Apothecaries of London (1999). He completed his internship in surgery at Balboa Naval Hospital (1987-1988) and his residency in general surgery at the University of California at Irvine (1988-1992). Peter also completed a Fellowship in Trauma and Critical Care at the University of Washington's Harborview Medical Center (1993-1995).
Dr. Rhee is a retired US Navy Captain following 24 years of active duty. Peter is a Fellow of the American College of Surgeons and a Fellow of Critical Care Medicine, as well as a member of the American Association for the Surgery of Trauma; Eastern Association for the Surgery of Trauma; Western Trauma Association; the Society of University Surgeons; the Association for Academic Surgery; the Society of Critical Care; and the Shock Society. He is also a member of the American College of Surgeons Committee on Trauma. Peter serves on numerous national and university committees, is a member of numerous Editorial Boards. He has also authored or co-authored over 200 peer reviewed publications and book chapters. Peter also serves on National steering committees and national trauma research committees including being on the Drug Safety and Monitoring Board and the protocol review board for the Resuscitation Outcomes Consortium. His areas of research interest includes suspended animation for trauma, hemostatic agents, resuscitation immunology and formulation of resuscitation fluids, trauma training, and advanced portable electronic medical devices including ones for communication and documentation.
<! - - - End Page Text - - ->
This page last updated January 6, 2012 jdb