Institute for Corean-American Studies




<! - - - Main Heading - - ->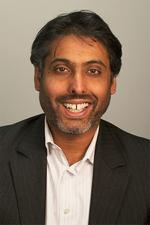 Vikram J. Singh
<! - - - - Page Text - - -> Vikram is the Vice President for National Security and International Policy at American Progress. Previously, he served as the deputy assistant secretary of defense for South and Southeast Asia at the Pentagon, where he advised senior leadership on all policy matters pertaining to development and implementation of defense strategies and plans for the region.
Until November 2011, Vikram was the deputy special representative for Afghanistan and Pakistan at the U.S. Department of State. He has also served in the U.S. Department of Defense as a senior advisor on Afghanistan and Pakistan, representing the department in National Security Council policy reviews of the region and the war in Afghanistan, and as a senior advisor responsible for the departmentís post-2014 strategic approach to South and Central Asia.
From 2003 to 2007 Vikram served in the Department of Defense on a broad range of issues, including programs to train and equip foreign military forces, American counterinsurgency and irregular warfare capabilities, stability operations, disaster response and humanitarian assistance, acquisitions resource analysis, and the 2005 Quadrennial Defense Review.
Vikram was a fellow at the Center for a New American Security, or CNAS, from 2007 to 2009. He is the author or co-author of numerous CNAS reports and articles published in a range of professional journals and national newspapers and has been a regular commentator on radio and television.
He has lived and worked in Sri Lanka, where Vikraman a Ford Foundation program on minority rights and conflict in Bangladesh, India, Nepal, Pakistan, and Sri Lanka and reported on the Sri Lankan civil war for the Voice of America.
Vikram is a recipient of public service awards, including the Department of Defense Medal for Distinguished Civilian Service and the Department of Stateís Superior Honor Award. He holds degrees from the University of California at Berkeley and Columbia University.
<! - - - End Page Text - - ->
This page last modified May 21, 2015 jdb