Institute for Corean-American Studies




<! - - - Main Heading - - ->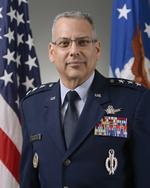 Lt General Jack Weinstein
<! - - - - Page Text - - -> Lt. Gen. Jack Weinstein is Deputy Chief of Staff for Strategic Deterrence and Nuclear Integration, Headquarters U. S. Air Force, Washington D.C. General Weinstein is responsible to the Secretary and Chief of Staff of the Air Force for focus on Nuclear Deterrence Operations. He provides direction, guidance, integration and advocacy regarding the nuclear deterrence mission of the United States Air Force and engages with joint and interagency partners for nuclear enterprise solutions.
Jack was commissioned through the ROTC program in 1982 and received distinguished graduate honors. He has served as a Minuteman III missile combat crew commander, instructor, evaluator, flight commander, emergency war order instructor and as executive officer to the Commander, 20th Air Force. Jack also served on the Headquarters Air Combat Command, Air Force Space Command and U.S. Strategic Command staffs. He has commanded at the squadron, group, wing, and numbered Air Force levels. In 2005, he deployed to Southwest Asia as Director of Space Forces for operations Enduring Freedom and Iraqi Freedom. General Weinstein has also served as the Director of Programs, Office of the Deputy Chief of Staff for Strategic Plans and Programs, Headquarters U.S. Air Force, as the Director of Air, Space and Cyberspace operations, Headquarters Air Force Space Command, and as the Vice Commander, Air Force Global Strike Command, Barksdale AFB, Louisiana.
Before his current assignment, Jack was Commander, Twentieth Air Force, Air Force Global Strike Command, and Commander, Task Force 214, U.S. Strategic Command, Francis E. Warren Air Force Base, Wyoming.
<! - - - End Page Text - - ->
This page last modified January 15, 2017 jdb