Institute for Corean-American Studies




<! - - - Main Heading - - ->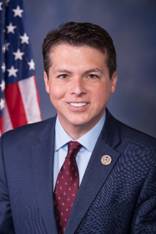 Brendan F. Boyle
US Congressman (PA-13)


<! - - - - Page Text - - ->
Congressman Brendan Boyle was born and raised in the Olney neighborhood of Pennsylvania's 13th Congressional District. A first generation American, Congressman Boyle's father emigrated from Ireland in search of a better life. As the proud son of a janitor and a crossing guard, he learned from an early age that if you work hard and play by the rules, you can make it in America.
The first in his family to attend college, Brendan attended the University of Notre Dame on a scholarship and later graduated from Harvard University's John F. Kennedy School of Government with a master's degree in Public Policy.
Elected to the Pennsylvania House of Representatives in 2008, Brendan became the first Democrat to represent Pennsylvania's 170th state legislative district. In 2014, Brendan was sent to Washington to represent his hometown in Congress. Now in his second term, he proudly represents the 13th Congressional district, which is made up of Northeast Philadelphia, parts of North Philly, and about half of the bustling suburbs of Montgomery County. Brendan currently serves on the House Foreign Affairs Committee and the House Committee on the Budget.
Throughout his career in public service, Congressman Boyle has remained an ardent supporter of working families. He is the founder and co-chair of the "Blue Collar Caucus" which advocates for working families by addressing wage stagnation, job insecurity, and dwindling career opportunities for those in manufacturing and the building trades.
<! - - - End Page Text - - ->
This page last modified July 24, 2018 jdb