Institute for Corean-American Studies




<! - - - Main Heading - - ->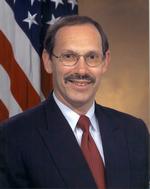 Dov S. Zakheim
<! - - - - Page Text - - ->
Dov S. Zakheim, ICAS Distinguished Fellow, is Senior Advisor at the Center for Strategic and International Studies and Senior Fellow at the CNA Corporation, a federally funded think tank. Previously Dov was Senior Vice President of Booz Allen Hamilton where he led the Firmís support of U.S. Combatant Commanders worldwide.
From 2001 to April 2004 Dov was Under Secretary of Defense (Comptroller) and Chief Financial Officer for the Department of Defense, and from 2002-2004 he was also DODís coordinator of civilian programs in Afghanistan. From 1985 until 1987, Dr. Zakheim was Deputy Under Secretary of Defense for Planning and Resources, playing an active role in the Department's system acquisition, strategic planning, programming and budget processes. Dov held other senior DOD posts from 1981-1985.
He has served on numerous government, corporate, non-profit and charitable boards. Dov is Vice Chairman of the Foreign Policy Research Instituteís Board of Trustees, and Vice Chairman of the Board of Directors of the Center for The National Interest.
Dr. Zakheimís membership of government boards and panels includes the National Intelligence Councilís International Business Practices Advisory Panel, which Dov chaired (2008-2011); the United States Commission for the Preservation of America's Heritage Abroad (1991-93); the Task Force on Defense Reform (1997); the Board of Visitors of the Department of Defense Overseas Regional Schools (1998-2001); the Commission on Wartime Contracting in Iraq and Afghanistan (2008-11); the Military Compensation and Retirement Modernization Commission (2013-2015); the Chief of Naval Operations Executive Panel (2004-16) and the Defense Business Board (2004-2010, 2013-2017), which he helped establish. Dov currently serves on the Board of Control of the United States Naval Academy Athletic Association and is an Executive Advisor to the Chief of Naval Operations.
He is a member of the Council on Foreign Relations; Chatham House/the Royal Institute of International Affairs (UK); the International Institute for Strategic Studies; and the Jewish Historical Society of England. Dov was elected a Fellow of the Royal Swedish Academy of War Sciences in 2011.
A 1970 Phi Beta Kappa graduate of Columbia University with a B.A., summa cum laude, Dr. Zakheim also studied at the London School of Economics. Dov holds a doctorate in economics and politics at St. Antony's College, University of Oxford. He has been an adjunct Senior Fellow of the Council on Foreign Relations, an adjunct Scholar of the Heritage Foundation and an adjunct professor at the National War College and at four universities.
Dr. Zakheim is the author of numerous books, monographs, chapters in edited volumes, articles and book reviews. His writings have been translated into Arabic, French, Hebrew, Italian and Norwegian. Dov lectures widely and provides print, radio and television commentary on national security policy issues domestically and internationally. He blogs on Foreign Policy/Shadow Government, The National Interest, and The Hill.
Dov earned his rabbinic ordination in 1973 from the noted Gaon Rabbi Shmuel Walkin. A frequent lecturer on both contemporary Middle East security issues and themes in Jewish history and law, he has been a visiting scholar in synagogues and Jewish communities both in the United States and overseas. Dov's articles on themes in Jewish law and values, with a special focus on national security matters, have appeared in Tradition, Shíma, Meorot, Living Words IV, Conversations, War and Peace in the Jewish Tradition in the Orthodox Forum series and chapters in edited books.
He has lectured on Jewish themes for over two decades in the Kemp Mill Synagogue, of which Dov is a founding member. His lecture series at the synagogue on the Ten Lost Tribes was published in 2010. Dov is currently lecturing on ďRabbis and Rulers,Ē a history of interaction between rabbinical and governing authorities from Talmudic times to the present. His most recent book, Nehemiah: Statesman and Sage (Koren/Maggid Books, 2016), is based on lectures he gave at the synagogue.
Dov is a board member of YCT Rabbinical School, the American Jewish Committee and Friends of the Jewish Chapel of the United States Naval Academy. He previously served on the board of the American Friends of Bet Hatefutsoth, and was a member of the AJCís Executive Committee, while chairing its Contemporary Jewish Life Commission from 2010-2016 and its International Relations Commissions from 2004-2010.
Dr. Zakheim is the recipient of numerous awards for his government, professional and civic work, including the Defense Departmentís highest civilian award in 1986, 1987 and 2004.
<! - - - End Page Text - - ->
This page last modified June 10, 2019 jdb